---
Cajun & Zydeco festival Jouars-Pontchartrain 2018
Op zaterdag had ik een klein interview met Sandrine, een meisje dat opvallend energiek danste op de klanken van de Cajun en Zydeco Muziek. Het interview is terug te beluisteren tot eind mei. De video van deze energieke danseres heeft zij gedeeld met een ieder:
20-05-2018 De tweede dag van het festival begon heel bijzonder voor mij. Op de vrijdagavond had ik gezien dat een jong meisje uit Frankrijk van een jaar of 10 aandachtig naar alle dansers zat te kijken en ik vroeg of ze wat pasjes van me wilde leren tussen twee bands door. Je moet nu eenmaal investeren in de nieuwe generatie dansers. s'Middags op de tweede dag zag ik ze weer met haar vader en ik kreeg spontaan een dikke knuffel van de jongedame als dank voor mijn inspanning. Dat beloonde ik weer met het dansen van een wals.
Wederom prachtig weer en buiten dansen ging prima omdat de dansvloer in onder een overkapping lag, beschermt tegen de felle zon. Vele interviews gemaakt voor de komende uitzending die al begin van de week online zal staan. De toppers voor velen waren niet alleen Horace Trahan maar ook de Engelse band de Zydeco Diamonds met Gavin Lewery, wat een dansbare top zydeco, klasse.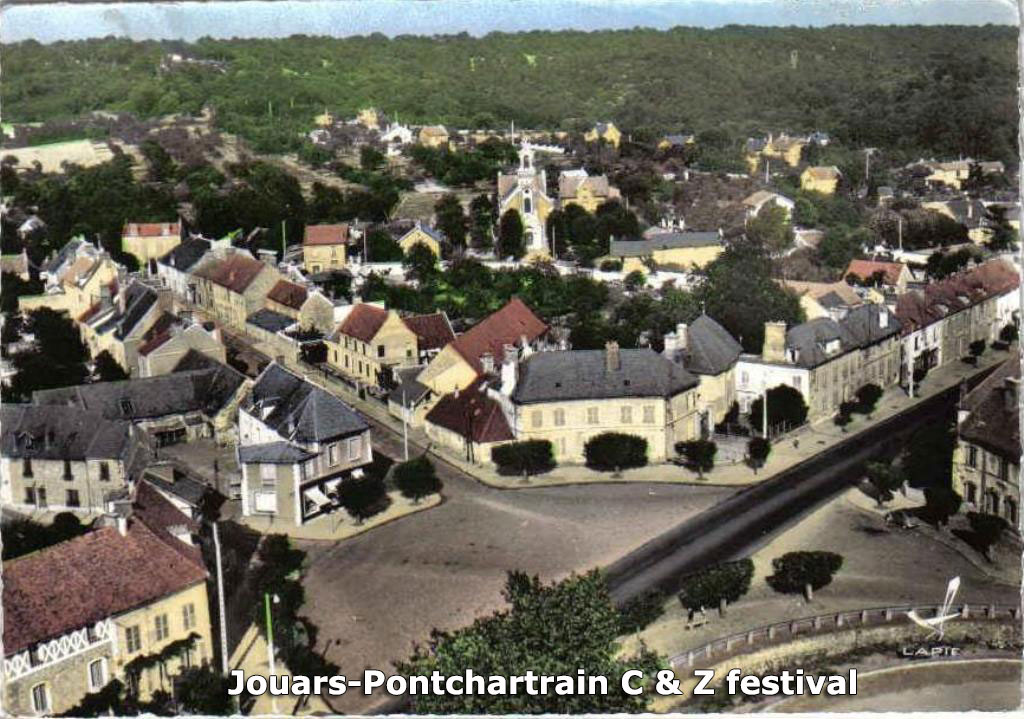 19-05-2015 De eerste dag van het festival is weer voorbij. Met de weergoden hebben ze het in Frankrijk bij alle vijf de edities prima voor elkaar. Mooi weer en een graadje of 22 C. Na het begroeten van de vele muziekvrienden waarvan we vele al meer als vijf jaar niet gezien hadden kon het feest zijn aanvang nemen. De CAJUN BOUEXI BAND die vorig jaar op ons festival in ZydecoZity hun debuut beleefden buiten Frankrijk waren In Raamsdonksveer ook gespot door Claude, de organisator van Jouars-Pontchartrain. Ze waren met z'n elven on stage en het grote podium stond dan ook vol, evenals de grote dansvloer. ZydegoNutz konden inkoppen want de toon was al gezet. Eigenlijk best leuk voor all bands om in Frankrijk te spelen, je moet immers aardig je best doen om de mensen niet aan het dansen te krijgen. Ook Horace Trahan vond het geweldig voor het Europese publiek te spelen want al bij al zijn de buitenlanders bijna in de meerderheid hier in Frankrijk. Bonne musique ici.
Het allereerste Festival in Jouars-Pontchartrain vond plaats in 2010 daarna volgden 2012 – 2014 – 2016 en daarmee zijn we in 2018 aangeland in de vijfde editie, een eerste lustrum dus. Het festival is elke keer gelukkig als het aankomt op de weergoden, een belangrijk aspect omdat de markt en het buiten podium toch een aspect zijn wat extra sfeer toevoegt aan dit festijn. Vooral voor de buitenlanders is daarmee het « beeld » van Frankrijk compleet.
Als festival organisator wordt het steeds moeilijker om alle zaakjes financieel rond te krijgen en het programma mag er wederom wezen. Jouars-Pontchartrain is een schilderachtig klein plaatsje met toch verrassend veel kleine restaurants.
Dit is het jubileum programma beginnend op de vrijdagmiddag.
ZARICO NOUVEAU (F)
CAJUN EXPRESS (F)
From 08.00 pm : indoor, Foyer Rural Place:
ZydeGoNutz(NL)
HORACE TRAHAN & The OSSUN EXPRESS (USA)
SATURDAY, MAY 19
11:00 am to 08:00 pm : free access, Foyer Rural Place:
MAMAN ROULAILLE (F)
JOHN QUI SAUTE (F)
LEMARE ZYD&CO (F)
PRAIRIE RONDE (F)
ERIC MARTIN TRIO (F)
SARAH SAVOY (USA-F)
BAL DE MAISON (F)
From 08.00 pm: indoor, Foyer Rural Place:
BELISAIRE (F)
ZYDECO DIAMONDS (UK)
HORACE TRAHAN & The OSSUN EXPRESS(USA)
SUNDAY, MAY 20
10:30 am to 08:00 pm: free access, Foyer Rural Place:
COLORED JAZZ BAND (F)
JOHN QUI SAUTE (F)
Surprise !!!! (F)
Surprise !!! (NL)
ERIC MARTIN TRIO (F)
JAM SESSION
From 08.00 pm : indoor, Foyer Rural Place :
PRAIRIE RONDE (F)
BLUE BAYOU (F)
CAJUN ROOSTERS (UK)