---
Dutch + International Cajun & Zydeco Agenda
---
Florida Cajun Zydeco Update! #116
November 2022 {link}
---
No. 115 — October 2022
Feature: Clifton Chenier
Cajun Zydeco Dance at Sauced Sports Bar in Largo on Friday, Oct. 7, 2022. Line dance tunes for 455 Rocket and Watermelon Crawl will be played. "Comin' Home Baby" by Mel Torme will be in the playlist as well — a story on how that song from 1962 was made. Rory Gallagher version of the song as a zydeco tune. The new Steve Riley and the Mamou Playboys band personnel after the pandemic. The legacy of Clifton Chenier. Dikki Du at the Bradenton Blues Festival. Johnny Sansone on the cover of Blues Blast Magazine. The complete band lineup of Festivals Acadiens et Creoles, and Riverhawk Music Festival is a go at the ranch in Dade City (Brooksville).
Excerpt: Strachwitz was first introduced to Clifton Chenier by blues master Lightnin' Hopkins, who was Chenier's cousin by marriage. Strachwitz was already a fan of both Louisiana Cajun and Creole music and the country blues, so Chenier's progressive French blues were a natural fit.
---
Florida Cajun Zydeco Magazine # 114
---
ZydecoVillage festival … at the end
---
"Get your kicks on route 66 , afslag 16 naar de stad..""Het leven was prachtig op de A85.. afslag 16 naar de hemel.. "Lieve vrienden en familie, Zoals sommige van jullie misschien al hebben vernomen is Ben/Lenny op de ochtend van 16 mei overleden. Hij was door velen geliefd en had liefde voor velen. Wij danken iedereen voor hun handreikingen en steun. Veel Liefs, Anje, Iris, Marleen, Janne en de Meute.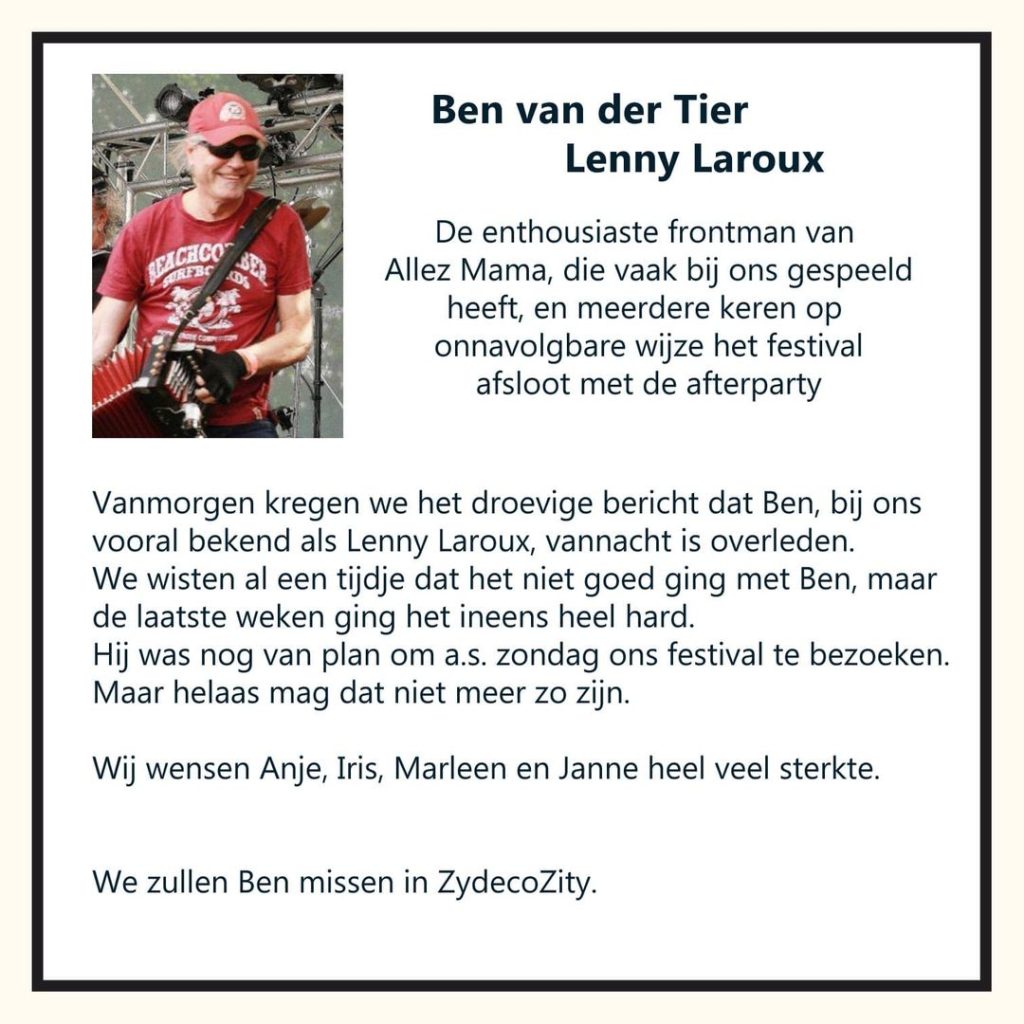 The singer/songwriter/accordionist of Alllez Mama & the band Laroux passed away today, May 16. / L'auteur-compositeur-interprète et accordéoniste d'Alllez Mama et du groupe Laroux est décédé aujourd'hui, le 16 mai.
---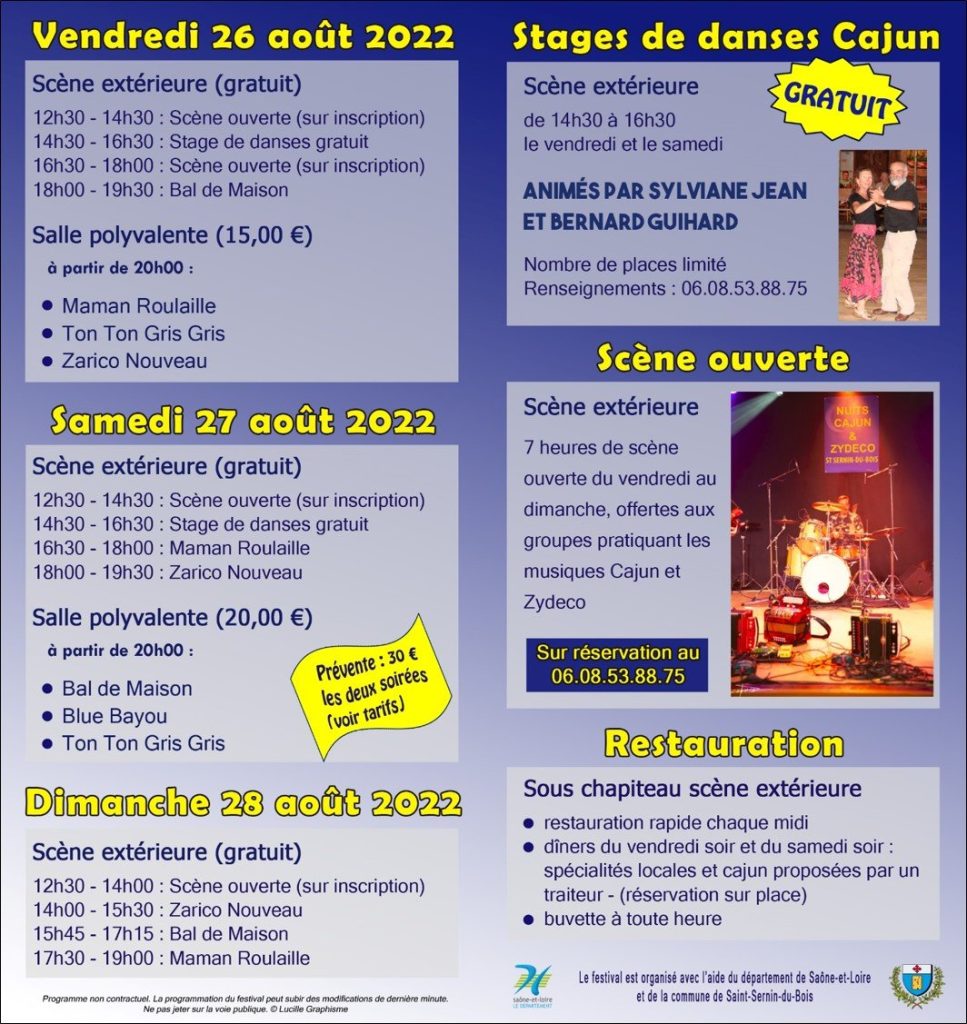 ---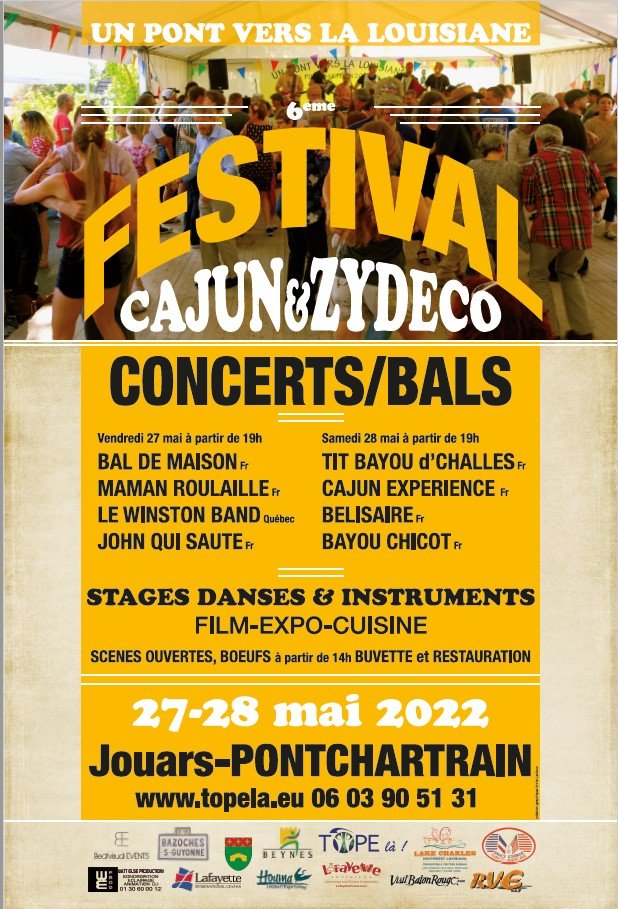 ---
With: T Broussard and Dwayne Dopsie visit Tampa Bay
---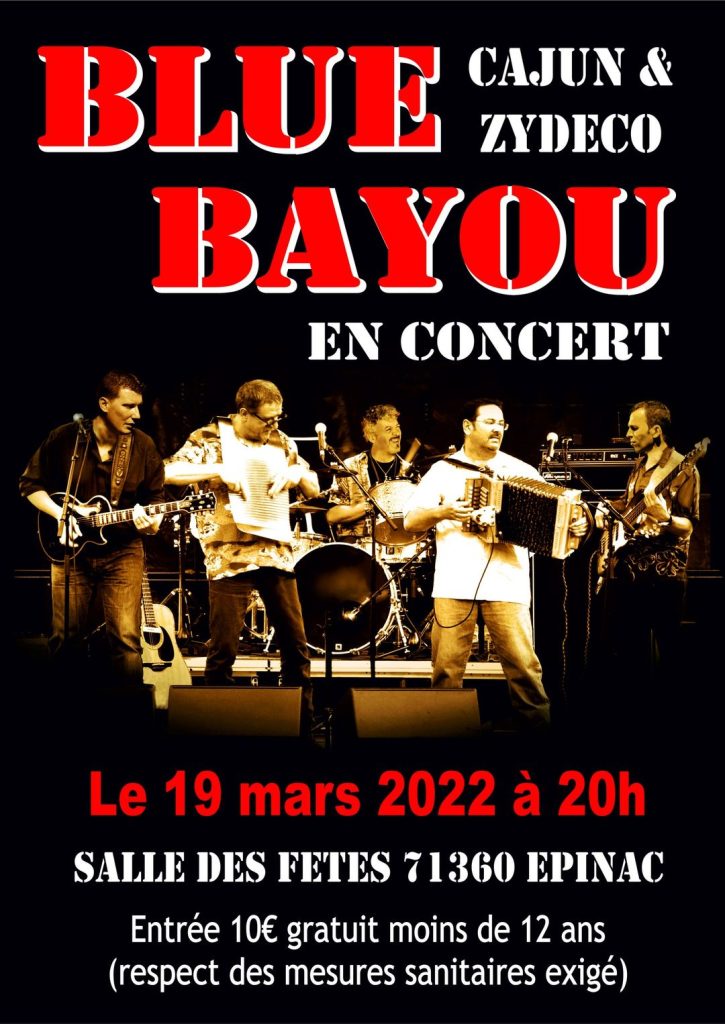 ---
The theme this month is "Faces of Festivals Acadiens et Creoles."
The March issue of Update! is out a little early to remind people of the great music we have lined up here in Florida for this weekend: Dunedin's Mardi Gras featuring four stages of great music on Saturday from 2 p.m. to 11 p.m., and T-Broussard & the Zydeco Steppers dance at Chief's Creole Cafe in St. Petersburg on Sunday from 1 p.m. to 4 p.m.
T-Broussard and Dwayne Dopsie headline Dunedin Mardi Gras on Feb. 26 (check out the band schedule and map to the stages on pages 4-5); T-Broussard and the Zydeco Steppers will perform at Chief's Creole Café in St. Petersburg on Sunday, Feb. 27; Beth McKee launches her live music event in Orlando set for Mar. 13; Suwannee Spring Reunion to feature Donna the Buffalo; Festivals Acadiens et Creoles Mar. 18-20, 2022. These featured artists each get their own story: Cameron Dupuy, Rusty Metoyer, Blake Miller.
Don't forget our monthly DJ Cajun Zydeco Dance in Pinellas Park on Friday, March 4 from 7 p.m. to 9:30 p.m. (dance lesson with Sharon Stern at 8 p.m.)
Excerpt: Dan Willging predicted, "By the time its all said and done, Cameron Dupuy should be on every list of top Cajun accordionists of all time."
---

Music Lineup Released For Festivals Acadiens et Créoles …
LAFAYETTE, LA – For the first time in over 40 years, Festivals Acadiens et Créoles—the world's largest Cajun and Creole festival—will be hosting a spring festival. With the theme "Le Grand Retour," three days of festivities will include live performances from local musicians, the Bayou Food Festival, Louisiana Crafts Fair as well as workshops and cooking demonstrations.
---
cajun-uk.co.uk – The Big Weekend
Rough Chowder are a UK Cajun and Zydeco music band. Fronted by husband and wife, Ian McIlroy and Miss Kitty. Rough Chowder combine traditional Cajun and Zydeco music with their own original material, to produce a highly danceable and infectious sound guaranteed to transport you to the dancehall, on the back porch or in a field during Mardi Gras.
---
Cajun & Zydeco – Music in Gloucester, Gloucester – Visit …
Europe's longest running Cajun & Zydeco festival is back for its (delayed) 28th year. Featuring live performances from Zydeco Diamonds, The Po Boys, The Bearcats Big Band, Lil Roosters Trio, Rough Chowder, Jock Tyldesley & Vera Van Heeringen, Joe Le Taxi, Elvis Fontenot and Lil Jim.
---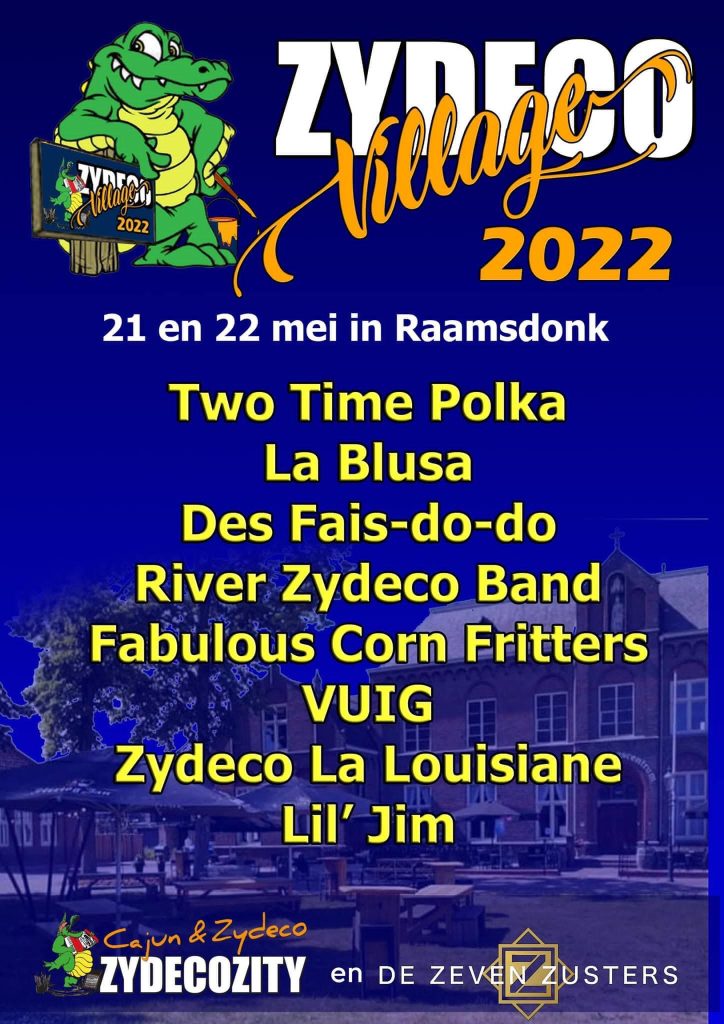 ---
We have some great events this month beginning with our Cajun Zydeco Dance at Sauced Sports Bar in Largo on Friday, Feb. 4. BeauSoleil is making a stop in Bonita Springs, FL on the band's Au Revoir Tour. The Dunedin Mardi Gras will feature headliner T-Broussard, and other great bands to be named soon performing on four stages. Dennis Stroughmatt and Creole Stomp will be performing in Atlanta, and Tom Rigney and Flambeau will be at the Sounds of Mardi Gras Festival in Fresno. Festival News includes the returns of Festivals Acadiens and Gator By the Bay.
---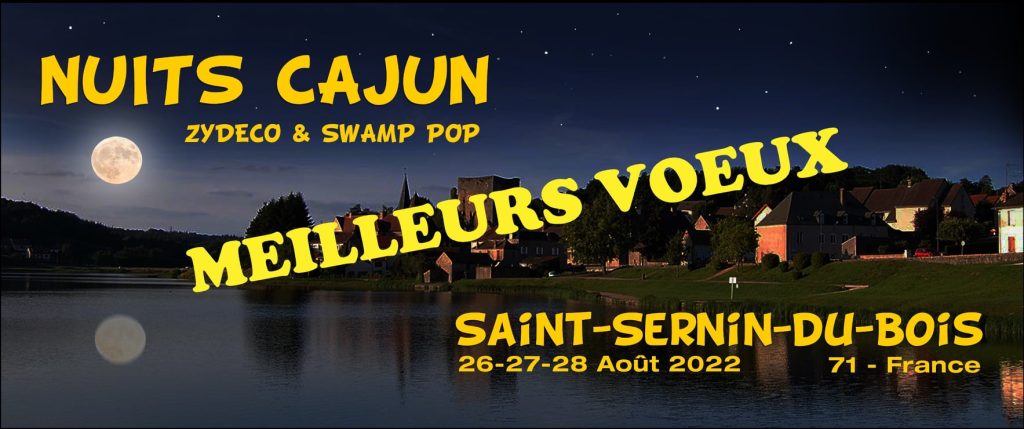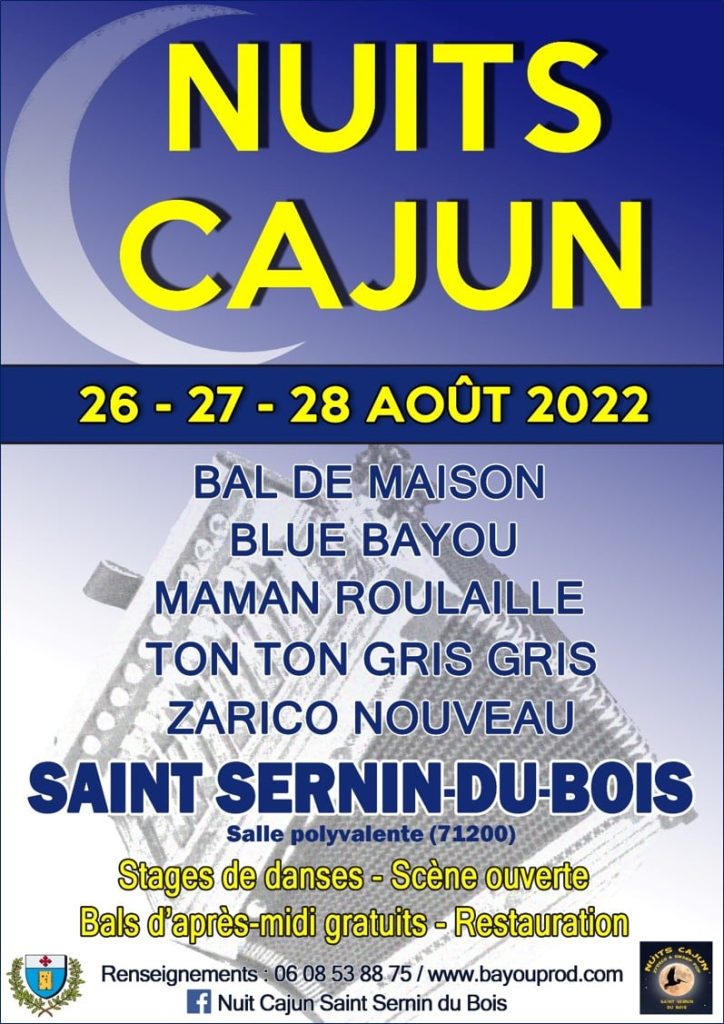 ---
---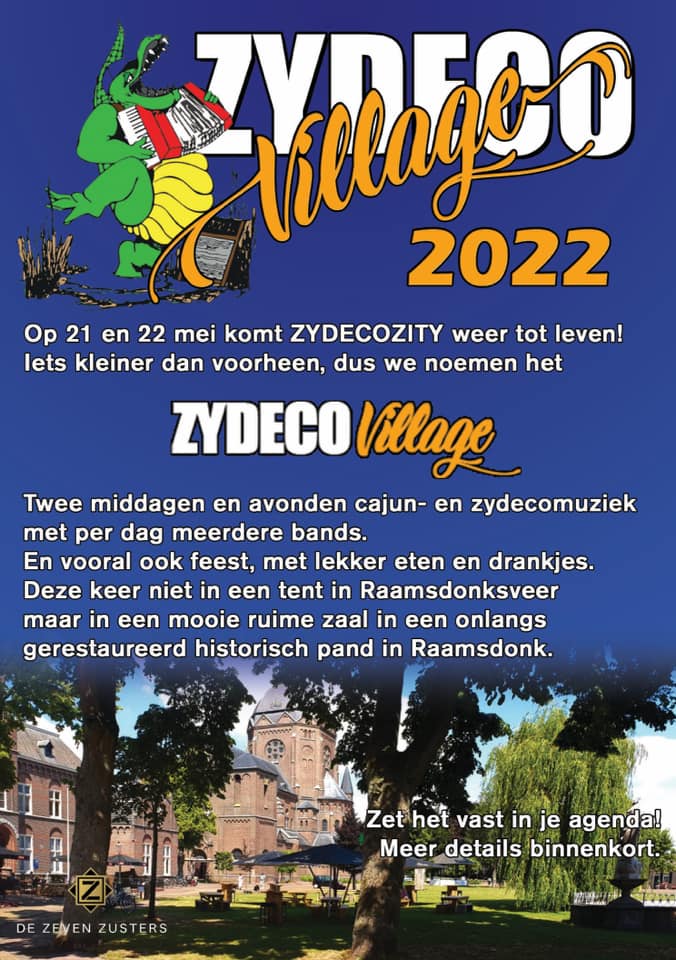 ---
Reviews of new Cajun and zydeco music from some of your favorite bands, and some you may have never heard of before.
Plan on joining us on Friday Dec. 3 for our Cajun Zydeco Dance at Sauced Sports Bar in Largo. We will dance to lots of new tunes, and I have included music reviews of a lot of that music. Welcome back to the dance floor!
Great new CD Crocodrile: So this is what Pink Floyd would sounds like playing cajun music
---
Dedicated to the memory of Larry Enlow
This weekend we're celebrating the life of Larry Enlow. There is a memorial and celebration of Larry's life today at Veteran's Park in Gulfport from 4 p.m. to 8 p.m. There will be music and dancing.
---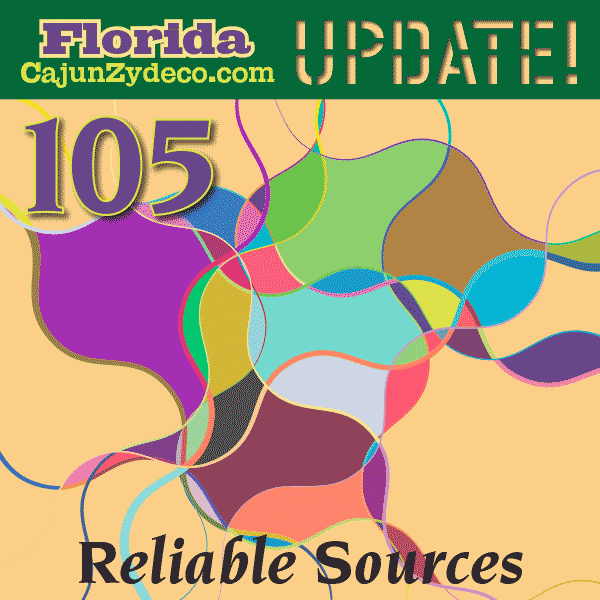 Unpacking differing opinions on social distancing and social dancing during a pandemic.
1. Donna the Buffalo on schedule of Suwannee Roots Revival Festival October 14-17 in Live Oak, Florida
2. Chubby Carrier and the Bayou Swamp Band is on the schedule for Great Gulfcoast Arts Festival in Pensacola November 5-7
3, Rhythm and Roots Festival Rundown by Kevin Royak
4. Learning Louisiana Lingo by Louisiana Travel
5. The Cajun and zydeco family feeling: has that feeling changed? by Henk Mutsaers

READ & DOWNLOAD issue 105
---
October Louisiana festivals are postponed.
1. Cajun Zydeco Dance at Sauced canceled due to COVID community transmissions.
2. JazzFest and Festivals Acadiens both postoned until the spring due to COVID.
3, Knowing when it is safe to return to the dance floor.
4. Rhythm & Roots fest goes forward Sept. 3-5 with COVID ground rules for attending.
5. Album recommendations for Rhythm & Roots festival artists.
---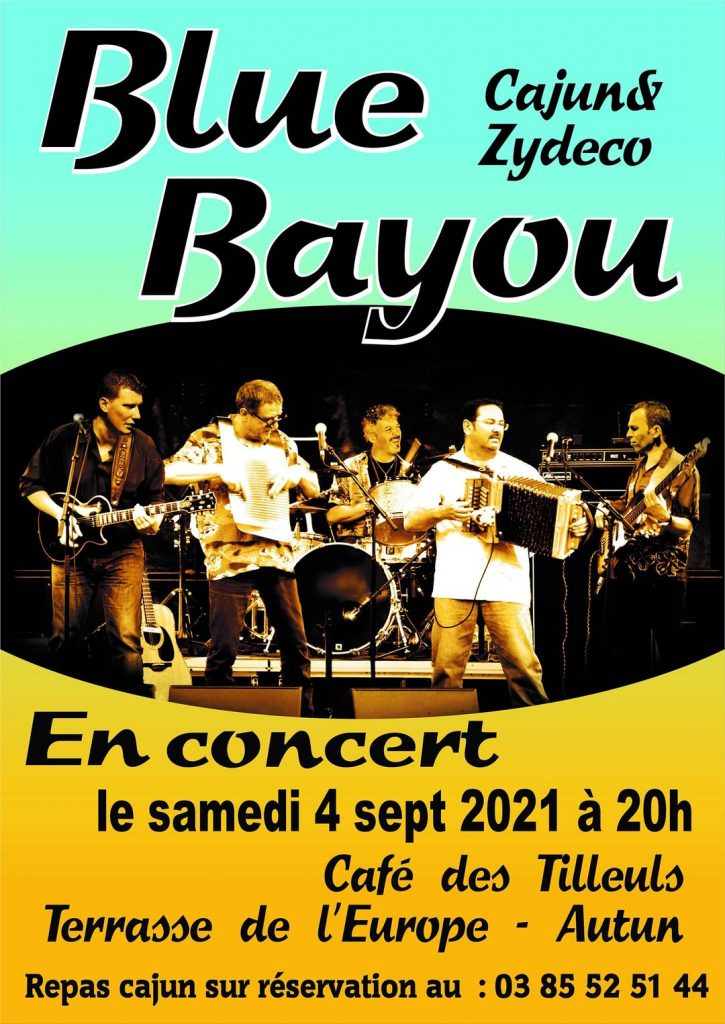 Sometimes a video doesn't show … the Tittle is: Dancing To new orleans (2003 Louisiana Music Documentary
---
---
We are extremely sad and dissappointed to announce that due to the still ongoing travel
restrictions between USA and Europe we are not able to organize the
'American Cajun, Blues & Zydeco Festival' in 2021.
NEW DATES for 2022 are already confirmed between
October 22nd – November 6th 2022.
The Daiquiri Queens (USA)
Rusty Metoyer & The Zydeco Krush (USA)
Roddie Romero & Michael Juan Nunez (USA)

First time in Europe: 'The Daiquiri Queens' as a six-piece band.
Zydeco from Lake Charles with 'Rusty Metoyer & The Zydeco Krush',
And Swampblues Masters Roddie Romero & Michael Juan Nunez will bring the Blues from Louisiana.
---
---
Des Fais Do Do est un groupe cajun fondé en 1991. En 2019, le groupe a pris un nouveau départ avec de nouveaux membres et un répertoire Americana / Zydeco légèrement plus large. Bientôt plus à ce sujet à la radio, …
https://www.desfaisdodo.com/
---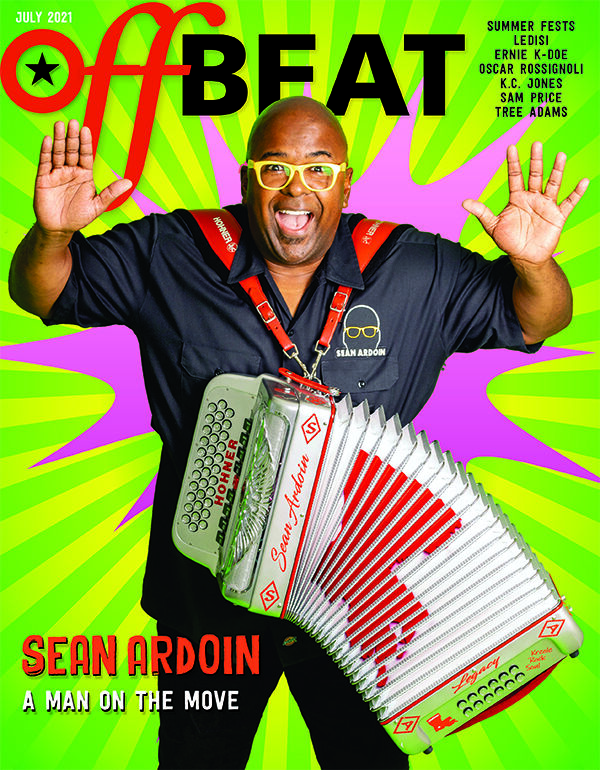 ---
---
Moin Henk, Freitag den 18.Juni um 20.30 Uhr gibt*s die neue MaCajun Formation live im Onlinestreaming hier: https://fb.me/e/XPDTlUKM|
Viel Spaß und hoffentlich bald wieder richtig live. Laissez les bons temps rouler Klaus Haettich
---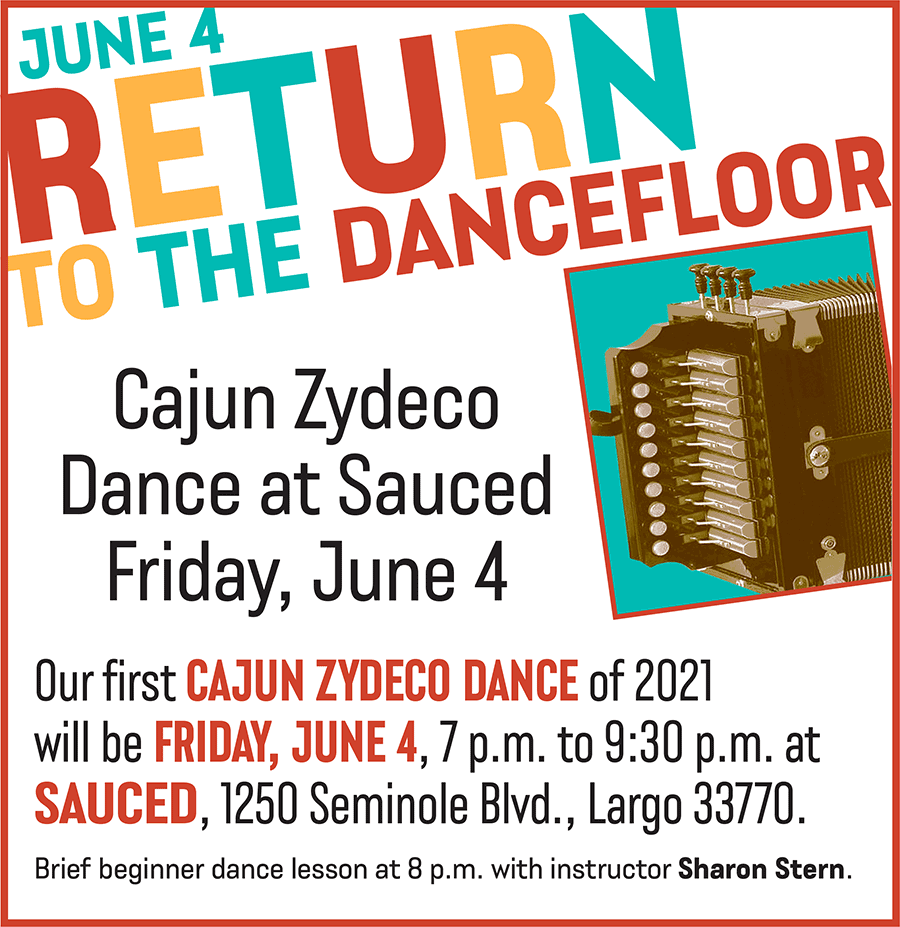 ---
Florida Cajun Zydeco Update! #101 (June 2021)
The most interesting stories from the past 50 issues of Florida Cajun Zydeco Update! (part 2 of 2)
Five stories on Cajun artists: Lost Bayou Ramblers, Steve Riley and the Mamou Playboys, Roddie Romero & the Hub City All-Stars, Wilson Savoy of the Pine Leaf Boys, and Yvette Landry.
---
Florida Cajun Zydeco Update! #100 (May 2021)
The most interesting stories from the past 50 issues (part 1 of 2)
The Irrepressible Sean Ardoin (NOT mentioned in this story: Sean's run for mayor of Lake Charles, LA); Giant: Beau Jocque — Many believe Beau Jocque was the genius of zydeco; Bonsoir, Catin: Cajun Girl Power! Strong female Cajun musicians who are smart, thoughtful and sexy; Chubby Carrier's 30-Year Dance Party: Zydeco's affable showman serves up the zydeco gumbo; Keith Frank: On the Pulse of Zydeco — Festival promoters plan a post-pandemic return to live events.
---
10-04-2021 Hot News, German band the Zydeco Playboys will release a new album in June. Here they are at the zydecozity festival 2019
---
FLORIDA CAJUN ZYDECO #99 Other stories: Stringbreak festival schedule April 8–10; Festival International to be held virtually; Sharon Stern reviews Cray Cray in the Hatch inaugural crawfish fais do-do held March 19-21 at Fiddler's Restaurant in Steinhatchee; featured Typefaces: IBM Plex Sans and IBM Plex Serif; GoTonight.com:A few live and streaming music events in the central Florida area.
---
Florida Cajun Zydeco Update! #98 feature story is on Terrance Simien. Music review of Corey Ledet's 14th album, and news on three festivals (one is canceled). Enjoy!

Excerpt: "Paul Simon was researching zydeco music for his album, Graceland," Simien said. "My band was one of three Simon took in the studio, and we were all teenagers."
---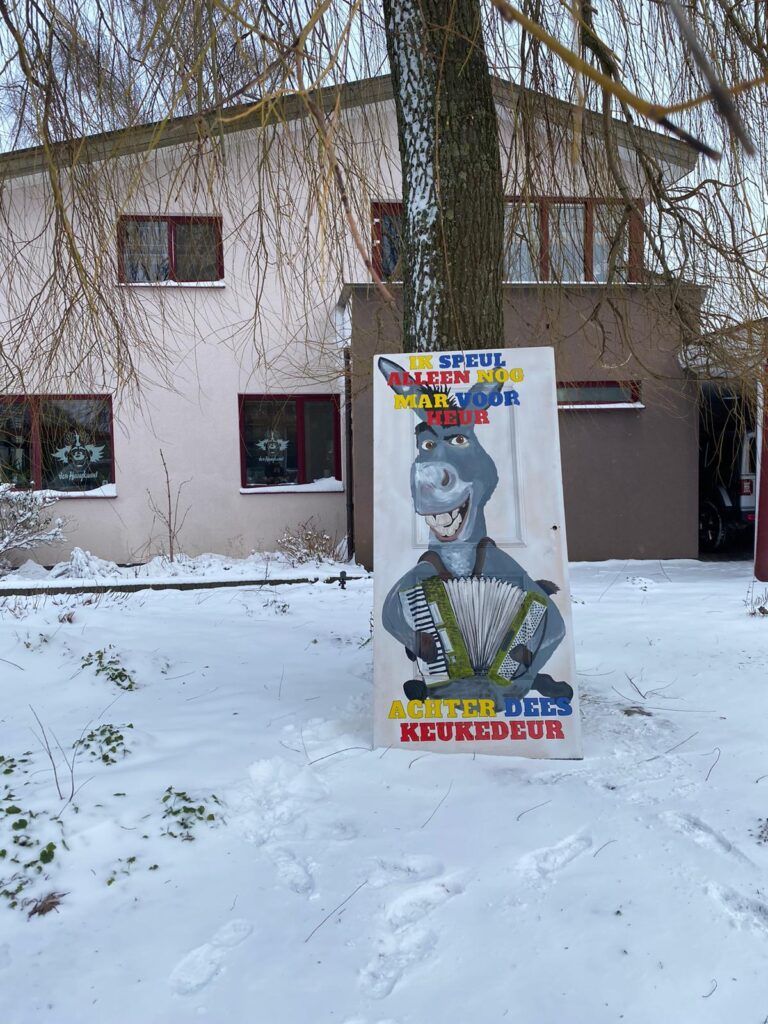 Carnival in the Netherlands is always a big party. With no carnival at all this year, this was found in de garden of Jo van Strien his house. Jo is the accordeon player of River Zydeco Band. In local dialect you can read "I am only playing for 'her' behind this kitchen door".
---
Florida Cajun Zydeco Update #97
This month's featured artist is Leroy Thomas.
---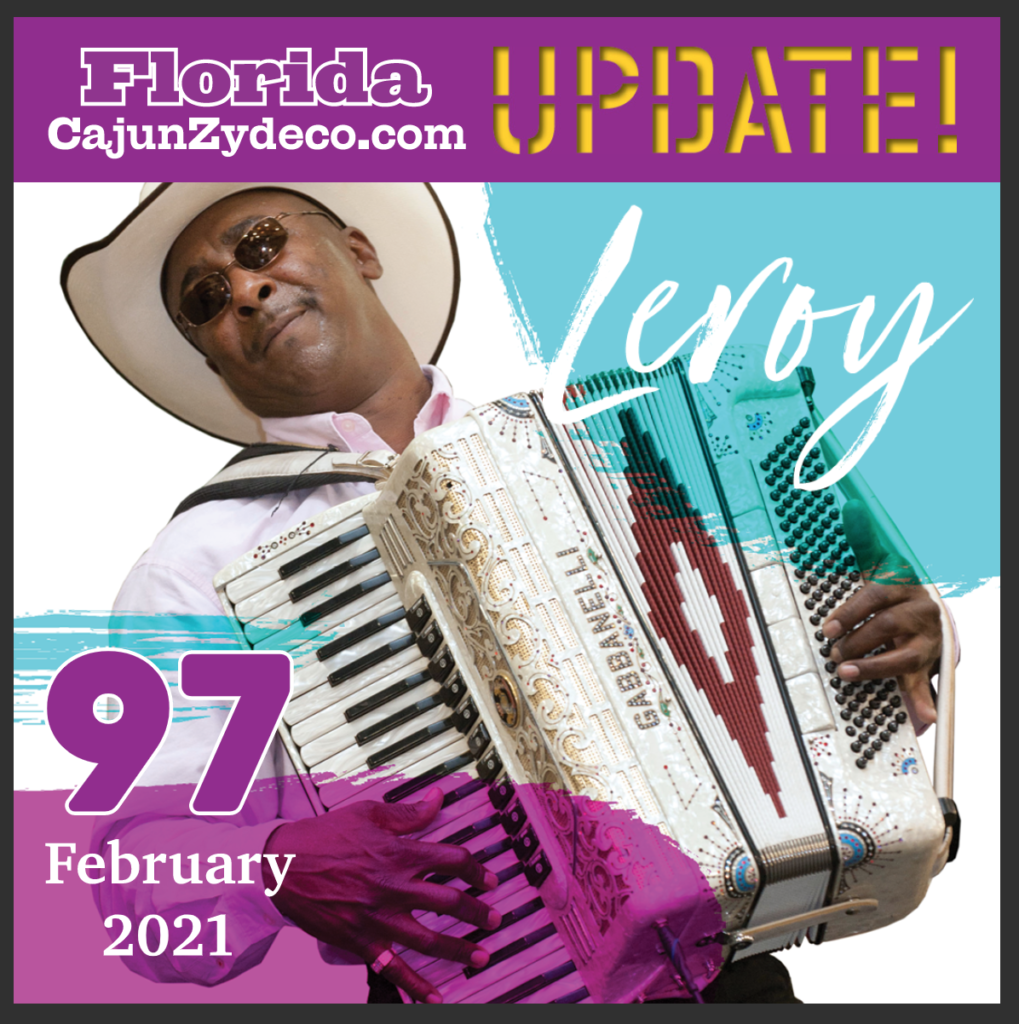 Other stories include: Sean Ardoin runs for mayor of Lake Charles; Rosie Ledet has a new band; Jourdan Thibodeaux and Cedric Watson team up; Louisiana Travel invites you to explore the Cajun music genre; promoters are moving forward with plans for live music festivals in the spring; Charter typeface is featured in this issue; remembering the IBM Selectric Composer; correspondence from readers.

If you've got a an idea for a future story, let me know. Already is the works are feature stories for March and April.
---
23-010-2021 I mailed Klaus-D. Haettich from the German Cajun Band MaCajun: "I had no gigs with MaCajun since last april. But at Sunday, 31.1.21 we play live in a streaming concert. Since 23 years we play on a Skiffle-Festival in an wonderful location called "Fabrik" in Hamburg. I'm one of the 3 founders for this festival in my Skiffletime and played there each year with MaCajun. There will be each year about 800 visitors. And this year live streamed with only 3 groups. And you have to pay nothing, cause we've got a good sponsor. www.skifflefestival.de and live www.streammax.de MaCajun plays at 12.00 a clock high noon
---
Feature story this issue is on Yvette Landry. Also check out the live music New Year's Celebrations options on page 3 (some are streaming live, but most are in-person), and "On the Horizon in 2021" on the last page.

I hope 2021 is a good year for us all.
Regards, Jim Hance
---
2021 Cajun Zydeco Calendar
Happy holidays! Here is a 12-month calendar (FORMATTED TO 8.5″ x 11″) featuring images and brief biographies of Cajun and zydeco artists who have been featured in Florida Cajun Zydeco Update! Artists include Chubby Carrier, Steve Riley, Leon Chavis, Bonsoir Catin, Curley Taylor, Feufollet, Chris Ardoin, Wilson Savoy, Nathan Williams Jr.., Roddie Romero, Keith Frank and Geno Delafose.

This mailing does not replace the monthly Florida Cajun Zydeco Update! Issue #96 for January 2021 will have the longest feature story yet, and will arrive in your email by January 1st. I am still adding content, so there is still time to send me a story or comment to be included.

Regards, Jim Hance Go view the calendar

---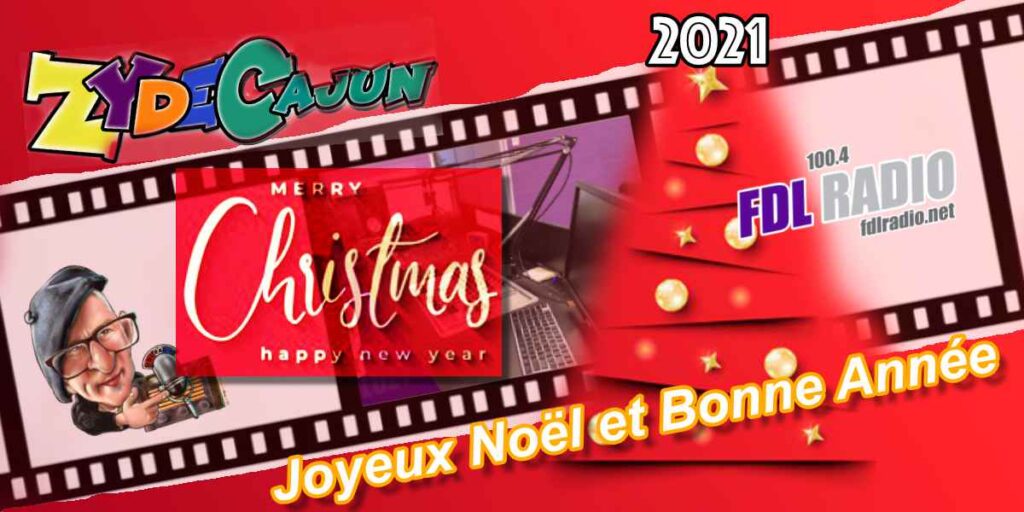 2021 will be a fresh start for Houston Tx star Corey Ledet, we've just got the news he will release a brand new album, ….
---
On there YouTube channel British band the Zydeco Diamonds published 3 zydeco songs, here's on of them, …
---
Florida Cajun Zydeco Update #95 is live.
It's been more than two decades since Beau Jocque left us, yet his influence on the genre of zydeco music is still here. I found numerous stories and reviews by Beau Jocque's producer Scott Billington, author Michael Tisserand, and others, and I weaved them all together into one story on the Zydeco Giant. I wanted to honor Billington and Tisserand for sharing their experiences of Beau Jocque, and include them as characters in the story.

Also in this issue are some reflections on the pandemic that closed down social dance events worldwide, how Louisiana places got their names, the designers behind the typefaces used in this issue, a new Cajun and zydeco music radio program starting in France, and more. read on
---
Avez-vous des nouvelles à signaler, faites-le nous savoir ou utilisez l'option de réaction
12-11-2020 FDL radio 100.4
Demain, je suis invité à faire de la publicité pour mon nouveau programme à la radio, c'est vendredi 13, peu importe, …
Tomorrow I'm invited to advertise my new program on the radio, it's Friday the thirteenth, who cares, …
Morgen ben ik uitgenodigd mijn programma voor te stellen op de radio, het is dan vrijdag de 13de, maakt niet uit, …
---
Florida Cajun Zydeco Update! #94
Feature story this month is on Preston Frank, Patriarch of the Frank Clan. Musicians in the Frank family go back to before sound recordings, and Preston Frank's grandfather was a fiddle player with Dennis McGee (who accompanied Amede Ardoin on the first phonograph recording of Acadiana music in 1929). As famous as his son, Keith Frank, has been, Preston has probably played more festivals than anyone else in the family. Preston Frank plays accordion and has been accompanied by some of the best Cajun and Creole fiddle players: Carlton Frank, Ed Poullard and Kevin Wimmer.

"I don't play that new zydeco or Acadian music. I play Creole zydeco. It's in between both of them. It's got a good drive and a good swing to it," says Preston Frank.
---
No. 93 — October 2020
Read Issue 93 and download a .PDF
Feature artist: Wayne Toups
68 Pages: Feature story on Wayne Toups. Other stories: Lafayette's favorite festival goes virtual; Festivals Acadiens et Creoles 2020 schedule; Chubby Carrier & the Bayou Swamp Band to headline Nov. 14 Riverhawk Festival in Dade City, Florida; memories of Willis Prudhomme, Victor Feldman on Cannonball Adderley's Poll-Winners album; End of an era? Skipper's Smokehouse in Tampa closed; Live shows at the Palladium.
Excerpt: "There's a lot of people that are upset at my decision," he said. "You can't make everybody happy. But we certainly had a good shot at doing that." — Tom White
No. 92 — September 2020
Read Issue 92 and download a PDF
Feature story is « The Irrepressible Sean Ardoin »
68 Pages: La Poussiere Cajun Dance Hall live streaming concerts; Pine Leaf Boys pre-release copy of new studio album, « Traveling Man, » now on sale on at paypal.me/pineleafboys; Louisiana bicycle tours; Festivals Acadiens et Créoles goes virtual for 2020; Houston's zydeco culture; a memory of pre-pandemic dancing days by Dan Duerr; music releases « Avenue Man » by Dr. Zog and « Same Old Me » by Dennis Stroughmatt; featured typeface this issue: Teramo.
Excerpt: « It is indeed sad that 80 years after the death of Amédé Ardoin that other blacks continue to be killed because elements of society hate them for the color of their skin. »
No. 91 — August 2020
Read Issue 91 and download a PDF
Feature story is « Roddie Romero and the Lafayette Sound. »
Almost Like Being There has been updated with links to live streaming performances and Facebook posts of the past week. Album Releases includes notes on albums from The Mavericks, Ann Savoy and Jane Vidrine, Sean Ardoin, Waylon Thibodeaux, Sweet Cecilia, Michael Doucet, T'Monde, Leon Chavis, and a 10-CD compilation, Cajun & Zydeco Milestones of Legends. Bios on Clifton Chenier, Harry Choates, Hackberry Ramblers, Iry LeJeune, Leo Soileau, Amédé Ardoin, Dennis McGee, Lawrence Walker and Dewey Balfa.
Excerpt: "The passage of the Roddie Romero Bill allowed future members of his band to perform before reaching legal drinking age, and the change in the law benefited many other young performers who were able to perform in public places and make names for themselves like Hunter Hayes, Trombone Shorty, Amanda Shaw, and Cedric Watson."
No. 90 — July 2020
Read Issue 90 and download a PDF
Featured artist: Lil' Nathan and the Zydeco Big Timers
Featured artist in this issue is Lil' Nathan and the Zydeco Big Timers. Featured typeface for issue #90 is Scotch, a new typeface based an 18th century typeface. Stories include « Pandemic Disruption » about Skipper's Smokehouse closing temporarily as a safety precaution from spreading the pandemic; « Perfect Balance » about the new online radio station featuring a mix of zydeco, R&B and blues music; « Dancing to the Slow Ones » about the nightclub two step and its origins in the 1960s; steaming live performances featured at GoTonight.com; and the feature story « Lil' Nate: The Cyrus Chestnut of Zydeco? »
Excerpt: "When I played 'Swing Low, Sweet Chariot' yesterday," Chestnut explained to Geoffrey Himes, "I used that Erroll Garner thing of playing a lot of different quotes in the introduction before I settled on the main theme. If you heard me play it today, it would be different than it was yesterday, and next week it would be different again. I always keep myself open to any last-minute inspiration because I thrive in the realm of spontaneity. »
No. 89 — June 2020
Read Issue 89 and download a .pdf
Featured artist: The Revelers
Featured artist is The Revelers. Featured typeface in this issue is Elkes.
Excerpt: "His droning, forceful playing on 'Please Baby Please' drives that song forward like on overnight hauler transporting a load well over the limit: pedal to the floor and eyes in the mirror."
No. 88 — May 2020
Read Issue 88 and download a .pdf
Featured artist: Keith Frank
Louisiana music online, popular performance videos, Keith Frank on The Pulse of Zydeco, and remembering Roy Carrier.
Excerpt: "I googled 'nouveau zydeco' and the first result listed was 'Nouveau Zydeco: Keith Frank Gets It On,' a 1995 story for OffBeat magazine by Michael Tisserand."
No. 87 — April 2020
Read Issue 87 and download .pdf
Featured artists: Fernest Arceneaux, Rockin' Sidney
Germs on the Dance Floor, Sean Ardoin videos during social distancing, Nathan and Zydeco Cha Chas live streaming performance on Friday April 3, new music from Lil' Nate and Chris Ardoin released in March, Fernest Arceneaux, « Prince of Zydeco » and Rockin' Sidney and the best selling zydeco song of all time.
Excerpt: "Well, I don't speak French," admitted Simien, "so what I'm hearing is, "Blah-blah-blah-blah-toot-toot."
No. 86 — March 2020
Read Issue 86 and download .pdf
Featured artists: Feufollet, Nooney and the Zydeco Floaters
The Crazy Fire of Feufollet, Revisiting Nooney and the Zydeco Floaters. WMNF's Rockabilly Ruckus at Skipper's, Cadillac Cowboys at Brady's BBQ, Cajun Zydeco Dance at Sauced in Largo, and Cajun Zydeco Dance at Skipper's in Tampa. Louisiana dance clubs, Festival-O-Rama, and dancing outside Florida and Louisiana.
Excerpt: "As Feufollet was in the process of organically developing a new sound, Edmiston received an offer she felt she couldn't refuse—to join Cavalia, a Montreal-based, equestrian-oriented, traveling extravaganza. Basically, she ran away to join the circus. A hard exit to top,and not an easy act to follow."
No. 85 — February 2020
Read Issue 85 and Download .pdf
Featured artists: Kevin Wimmer, Terry and the Zydeco Bad Boys
Kevin Wimmer: Lost in a Cajun Reverie; Terry Domingue of Terry and the Zydeco Bad Boys; Louisiana Dance Clubs, Sauced Bar & Pizzeria; Cadillac Cowboys at Brady's BBQ.
Excerpt: "There is something about the feeling we have playing there [Festivals Acadien], which has to do with being Dewey's festival and falling in that tradition." — Kevin Wimmer
No. 84 — January 2020
Read Issue 84 and Download .pdf
Feature: Jeffery Broussard: Exploring the Traditions of Zydeco
C.J. Chenier at Delray Beach and Tampa this weekend, Cajun Zydeco Dance at Sauced on Jan. 10, Cajun Zydeco Dance at Skipper's Smokehouse on Jan. 21, Tab Benoit at Skipper's Smokehouse on Jan. 17 & 18, Gumbo Fest at Shell Factory in North Fort Myers featuring Dwayne Dopsie and the Zydeco Hellraisers and The Porchdogs on Jan. 26, Gumbo Limbo Cajun Band in Gainesville on Feb. 9, Louisiana Dance Clubs, Festival-O-Rama, and Facebook Feed of 2020 New Year's celebrations.
Excerpt: "The Creole music scene in Louisiana is still going. However, with the new generation of music and younger musicians adding their own zest to the music, I'm afraid it will lose its authenticity as the younger artists are adding more hip-hop and less accordion, so my goal is to keep the tradition and culture going, not by preserving the music but by performing and promoting it!" — Jeffery Broussard