---
Nederlands | Française + English please use translate —>
---
Weet jij nog je eerste plaat die je kocht? Bij mij was dat het album van Sam and Dave, f 12,50 gulden. Een singeltje koste toen nog f 3.25 gulden dat was bij de nummer #1 platen shop van de regio Disco 33. Op de zaterdag waren daar alle Deejays te vinden om hun collectie voor het weekend aan te vullen.
Thuis heb ik ook nog wat 78 toeren platen staan van bakeliet. Elke avond ging een deel van je prive platen collectie mee om te draaien. Best wel zwaar zo'n platenkoffer met voornamelijk LP's. Dat platen tijdperk dat voor mij als deejay begon in 1970 duurde echter relatief gezien niet zo heel lang. In 1983 kon ik voor het eerst al CD tjes draaien en enkele jaren later was het singeltje al op zijn retour. Wat wel nog lang bleef waren de 12 inch platen. Vaak een lange uitvoering van een top 40 hit.
Halverwege de zeventiger jaren kwam daar mijn eerste kennismaking met de Zydeco muziek. De tipparade notering van Clifton Chenier en Keep on knockin' but you can't come in, met die Franse titel die we geen van allen foutloos konden uitspreken. Tu peux corner mais tu peux pas rentrer.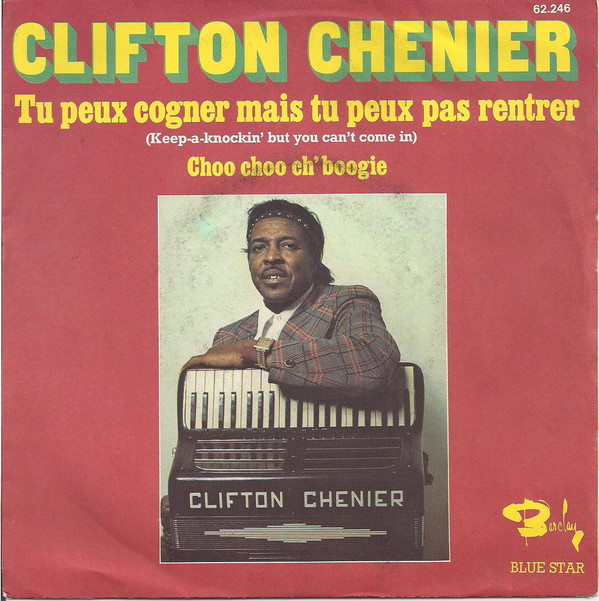 Als je heden ten dagen op zydeco muziek zoekt kun je niet om de naam Floyd's heen. Een oude platen zaak uit 1956 die nu online hun platen wereldwijd verkopen. Maar hoe lang nog?
Bij de deejays en de radio is de CD al een prehistorisch item. Na het cassette deck, de minidisc speler, de DAT recorder en de bandrecorder zijn ze allemaal ingewisseld voor de computer. De mp3 files maken nu weer de dienst uit en dat laatste zie ik 1-2-3 niet zo gauw meer veranderen.
Toen ik in 2010 mijn 40 jarig jubileum draaide kwam Jeroen van Inkel gewapend met vier data disk's die hij uit zijn portemonnee haalde en in de (CD) spelers stopte. De zware platenkoffers gevuld met CD's waarvan het hoesje door de lichtshow vrijwel onleesbaar was. Mixen was een stuk eenvoudiger geworden en platen overslaan en rumble. Het was allemaal verleden tijd.
Nu hebben we een abonnement op Spotify en ruim 4 miljoen platen tot onze beschikking.
Ook voor de artiest veranderde er veel. Een platen contract was een ideaal en moeilijk achterna te jaren. Talloos zijn de verhalen van artiesten die vervolgens opgelicht werden bij het verkrijgen van de royalty's. Van elke plaat was 40% voor de tekstschrijver, 40% voor de componist en de resterende opbrengt voor de plantenzaak en platen maatschappij. Nu bij iTunes is van de 98 euro cent per nummer nog twee cent voor de componist en tekstschrijver en bij Spotify zijn de opbrengsten helemaal te verwaarlozen. Dat was heel bedroevend zichtbaar bij Buckwheat Zydeco. Toen hij ziek werd in 2016 was hij al snel aan de bedelstand. Niet meer in staat om de kosten voor zijn behandeling te betalen.
Al met al is het tegenwoordig wel een afweging voor artiesten. Maak ik nog wel een CD of zet ik mijn muziek uitsluitend digitaal online. Crowdfunding is nog een manier voor bands om via hun fanclub zo'n project te ondernemen.
– Henk Mutsaers