---
New video's as they are at YouTube 12-06 Cajun Express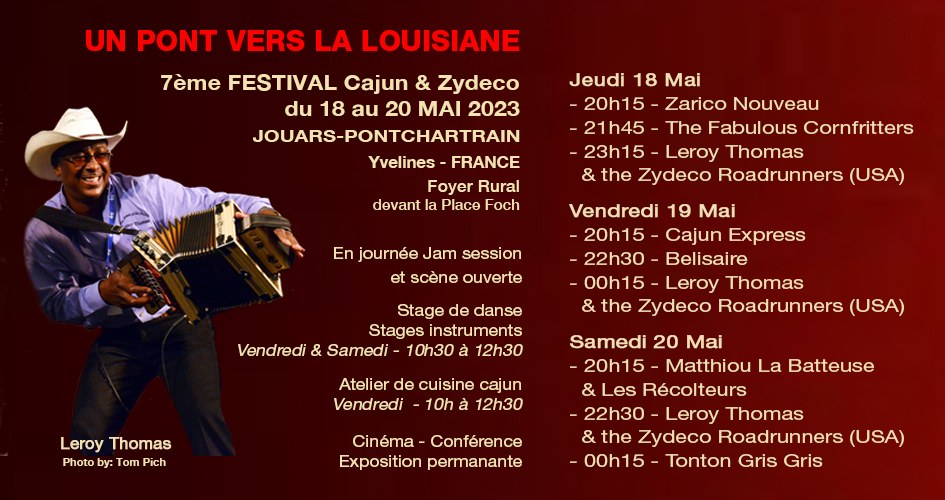 ---
May 21 – 2023 | Cette semaine, nous avons pu profiter d'un autre long week-end de musique cajun et zydeco au festival français JOUARS-PONTCHARTRAIN. Le festival en est à sa septième édition et je n'ai dû m'absenter qu'une seule fois en 2016.
Les dieux de la météo ont été cléments avec nous tout au long du week-end. Jeudi matin, le ciel était encore nuageux, mais le soleil a fait son apparition et la fête a pu commencer.
Il y a eu un revers dans le camp des Fabulous Cornfritters qui ont dû se contenter d'un homme en moins pour cause de maladie. Avec un changement dans le choix du répertoire et l'apport du joueur invité David Rolande, et compte tenu des nombreux compliments, ce fut un set réussi.
Ce qui était frappant à ce festival, c'était la présence de danseurs de Rockabilly, habillés de façon frappante et avec de beaux mouvements de danse qui se combinaient bien avec les danses traditionnelles. Il ne faut pas oublier la première prestation des Récolteurs qui a été du goût de tout le monde, selon certains visiteurs.
Leroy Thomas and the Zydeco Road Runners a bien sûr assuré le gros du spectacle, avec du zydeco, des two steps, du rock and roll, le tout agrémenté de nombreuses valses qui ont surtout satisfait les invités français. Il n'y a donc aucune raison de quitter la fête plus tôt si certains ont dû le faire le samedi soir en raison d'un retour précoce à la maison. Comme la graisse, beaucoup se réjouissent déjà d'une huitième édition.
J'ai dit au co-organisateur Claude Grajeon : "Le dimanche sera à nouveau votre jour de fête si vous pouvez à nouveau profiter de la danse". Je ne savais pas que l'édition de cette année avait été déplacée au jeudi, vendredi et samedi. Il m'a fait comprendre par des mots et des gestes que le dimanche, il fallait prendre le bâton de balai en main. Peut-être une bonne idée pour une chanson intitulée "la danse du nettoyage". Qui s'en chargera ? Il suffit de la faire en deux temps, car avec la valse, le nettoyage risque de prendre trop de temps. Une chose est sûre, ce sera une danse avec le sourire, car tout le monde pourra se remémorer un événement réussi, avec du beau temps, de bons groupes et beaucoup de boissons, en particulier parmi les visiteurs néerlandais.
Au cours des prochains mois, nous recommencerons à publier ici les vidéos YouTube de Patrick. En attendant, tout le monde peut regarder sa chaîne richement documentée. https://www.youtube.com/@PatakaisseTV
---
---
This week we were able to enjoy another long weekend of Cajun and zydeco music at the French festival JOUARS-PONTCHARTRAIN. The festival is in its seventh year and I only had to miss one time in 2016.
The weather gods were kind to us all weekend long. Thursday morning was still cloudy, but the sun came out and the party could begin.
There was a setback for the Fabulous Cornfritters who had to make do with one less man due to illness. With a change in repertoire selection and the addition of guest player David Rolande, and given the many compliments, it was a successful set.
What was striking at this festival was the presence of Rockabilly dancers, strikingly dressed and with beautiful dance moves that combined well with the traditional dances. We must not forget the first performance of the Harvesters, which was to everyone's taste, according to some visitors.
Leroy Thomas and the Zydeco Road Runners provided the main part of the show, with zydeco, two steps, rock and roll, and a lot of waltzes that especially satisfied the French guests. So there was no reason to leave the party early if some had to do so on Saturday night due to an early return home. Like the fat, many are already looking forward to an eighth edition.
I told co-organizer Claude Grajeon, "Sunday will be your party day again if you can enjoy the dance again." I didn't know that this year's edition had been moved to Thursday, Friday and Saturday. He made it clear to me with words and gestures that Sunday was the day to take the broom stick in hand. Maybe a good idea for a song called "the cleaning dance". Who will do it? Just do it in two steps, because with the waltz, the cleaning might take too long. One thing is for sure, it will be a dance with a smile, because everyone will be able to remember a successful event, with good weather, good bands and lots of drinks, especially among the Dutch visitors.
In the coming months we will start posting Patrick's YouTube videos here again. In the meantime, everyone can watch his richly documented channel. https://www.youtube.com/@PatakaisseTV
---
---
Deze week konden we weer een lang weekend genieten van cajun en zydeco muziek in het franse JOUARS-PONTCHARTRAIN festival. Inmiddels alweer de zevende editie waarvan ik slechts een enkele keer verstek moest laten gaan in 2016.
De weergoden waren ons gunstig gestemd het hele weekend, donderdag morgen nog een bewolkte lucht maar daarna brak het zonnetje door en kon het feest beginnen.
Een tegenvaller was er in het kamp van de Fabulous Cornfritters waar men het met een mannetje minder moest stellen wegens ziekte. Met een verschuiving in de repertoire keuze en inbreng van gast speler David Rolande en gezien de vele complimenten een geslaagde set.
Wat opvallende was bij dit festival waren enkele Rockabilly dansers, opvallende in stijl gekleed en prachtige dans moves die zich goed lieten combineren met de traditionele dansen. Het debuut optreden van Les Récolteurs mag niet onvermeld blijven wat zeer in de smeek viel zo kon ik optekenen uit de mond van enkele bezoekers.
De hoofd set werd natuurlijk verzorgd door Leroy Thomas and the Zydeco Road Runners, stampende zydeco, two steps, rock en roll en dat alles doorspekt met vele walsen om vooral de franse gasten tot tevredenheid te stellen. Geen enkele reden dan ook om vroegtijdig het feest te verlaten als moesten enkele dat toch op de zaterdagavond vanwege de vroege terugreis huiswaarts. Net als dik zullen velen al uit gaan kijken naar een achtste editie.
Ik zei tegen mede organisator Claude Grajeon; "Zondag wordt het weer jouw dag als je weer helemaal kan genieten van het dansen". Er niet bij stilstaande dat de editie van dit jaar verschoven was naar donderdag, vrijdag, zaterdag. Hij maakte mij duidelijk in woord en gebaren dat zondag de dweil stok ter hand genomen moet worden. Wellicht een mooi idee voor een liedje met de titel; "la danse du nettoyage". Wie gaat dit op zich nemen? Maak er maar een two step van want met de wals gaat het schoonmaken wellicht te lang duren. Een ding is zeker, het wordt een dans met een glimlach want iedereen kan terugkijken op een geslaagd evenement met mooi weer, goede bands en veel drankjes, vooral onder de Hollandse bezoekers.
In de loop van de komende maanden zullen we hier ook weer de YouTube video's van Patrick gaan plaatsen. Intussen kan iedereen terug kijken op zijn rijk gedocumenteerde kanaal. https://www.youtube.com/@PatakaisseTV